---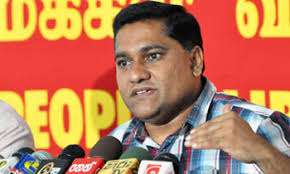 While rejecting the claim that the Supreme Court decision on dissolving parliament had prevented the election being held, the Janatha Vimukthi Peramuna said yesterday the Supreme Court verdict had without doubt enshrined the franchise of the people.
JVP propaganda secretary Vijitha Herath told a news conference that the SC ruling had strengthened the people's franchise.
"Some people describe the SC ruling as having prevented an election. This is totally wrong. The Constitution clearly mentions a time frame for elections to be held. The president has no right to violate that time frame. The Court underlined the fact that no one can use his or her extreme powers to smother the people's rights," he said.
The MP said the SC decision was a result of the 19th Amendment and added that the statements made by some people claiming shortcomings in the 19A had been proved wrong.
"SC decision proved that 19A was a correct and progressive amendment. No one can term the present crisis as a Constitutional crisis anymore. Some people tried to describe this political crisis as a Constitutional crisis," he said.
He said the political coup had done huge damage to the country and stressed the need to appoint a select commission in parliament. (Ajith Siriwardana)