---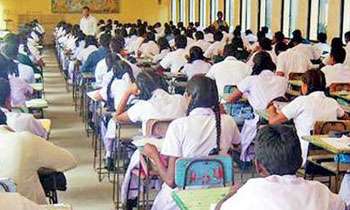 The Supreme Court directed the Commissioner General of Examinations to appoint an independent team of examiners to re-evaluate the 2013 G.C.E Ordinary Level Examination English paper answered by an aggrieved student and award appropriate marks and a requisite grade as well.
The Bench comprising Justices Sisira J.De Abrew, Prasanna Jayawardena and Murdu Fernando also issued a declaration that the aggrieved student's fundamental right to equality and equal protection of the law have been infringed.
Chandrani Wijegunawardena (mother) and his daughter Kavitha Sadmini Weerasinghe, a student of Visakha Vidyalaya, Colombo filed the rights petition citing Commissioner of Examinations, Commissioner of Exam Evaluations, Commissioner as well as Assistant Commissioner of Inquiry, Education Minister and two others as Respondents.
S.N.Vijith Singh with Laknath Seneviratne appeared for the Petitioners. Senior State Counsel Suren Janaraj appeared for the Attorney General.
Petitioners stated they sought to challenge the discriminatory, arbitrary, capricious and spiteful conduct of the Respondents in preventing the aggrieved student from obtaining an 'A' grade in the subject of English at the Ordinary Level Examinations of 2013.
Petitioners complained that the relevant inquiry officers had told them that there was an irregularity in the examination paper answered by the said student but although they tried to assist in rectifying the matter, they were unable to do so. (S.S.Selvanayagam)