---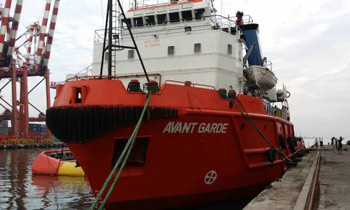 The Supreme Court Bench comprising Justices Eva Wanasundera and Nalin Perera yesterday granted leave to proceed with the fundamental rights petition filed by MV Avant Garde's Ukrainian Captain challenging his arrest and detention.
Court fixed April 4 to consider interim relief and fix the date of the hearing.
Petitioner 49-year-old Gennadiy Gavrylov said he was arrested in October 2015 outside Sri Lankan territorial waters and was being detained at the Galle remand prison.
He said he had no political affiliations to any group or political party in Sri Lanka and that by some misfortune had been embroiled in a political tug-o-war prevailing in the country.
The petitioner cited the CID OIC, CID Director, CID DIG and Rakna Arakshaka Lanka Limited (RALL), a government-owned business undertaking affiliated to the Defence Ministry, Avant Garde Maritime Services (AGMS), Sri Lanka Shipping Company Limited, Lanka Maritime Services Limited, the Defence Secretary and the Attorney General as respondents.
He said the MV Avant Garde was chartered by Avant Garde Maritime Services belonging to Sri Lanka Shipping Company and was seized while in international waters in the wake of the change of government in Sri Lanka.
The petitioner said some of the respondents subjected him to cruel, inhumane and degrading treatment through falsely accusing him of entering Sri Lankan territorial waters in the vessel which he took over as captain on July 24, 2015.
He said SLNS Nandimithra had accosted 'MV Avant Garde' and took it into custody while in in international waters 15 nautical miles from the baseline.
The petitioner said Galle's Deputy Harbour Master, who is also the Acting Residential Manager of the Galle Port in his statement had admitted to the vessel being seized outside the territorial waters of Sri Lanka.
Manohara de Silva PC with Arinda Wijesurendra appeared for the petitioner. Romesh de Silva PC with Kuvera de Zoysa PC and Sugath Caldera appeard for the Avant Garde Maritime Services (AGMS) and Sri Lanka Shipping Company Limited. Deputy Solicitor General Ayesha Jinasena appeared for the CID, Defence Secretary and the Attorney General. (S.S. Selvanayagam)