---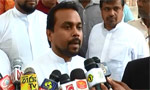 The Supreme Court today granted leave to proceed with the rights petitions challenging the intended imposition of additional liabilities pertaining to multi-stage tax called the Value Added Tax (VAT) and Nation Building Tax (NBT).
The Bench comprising Chief Justice K.Sripavan, Justice B.P.Aluvihara granted leave for the alleged infringement of the fundamental right to equality.
Senior Deputy Solicitor General Farzana Jameel with Senior State Counsels S.Barrie and Dr. Avanti Perera opposed granting Interim Reliefs.
Five petitions have been filed against the said intended imposition of Taxes. Former Minister Wimal Weerawansa, Ven. Maduruoya Dharmisiri Thera, Ven. Bengamuge Nalaka Thera, Centre for Policy Alternative and Sivapathasunderam Sivakumar are the Petitioners.
Manohara de Silva PC, Shavindra Fernando PC and Viran Corea appeared for the Petitioners separately.
Video by Courts Prasanna