---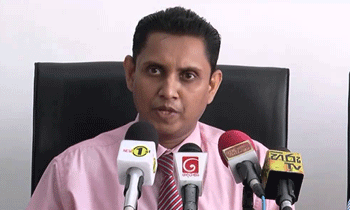 While stating that the latest stand taken by the government regarding the SAITM cannot be regarded as the final solution to the issue, the GMOA today said that they need further clarification on the proposed steps.
The government announced on Sunday that it had decided to abolish the SAITM and convert it into a non-profit making institution coming under the University Grants Commission (UGC).
GMOA Secretary Dr. Haritha Aluthge told a news conference that there were several points to make clarifications and amendments even though some positive facts were included in the given decision.
He said that the GMOA was attempting to find a final solution to the SAITM issue through the decision given by the government recently.
"This decision was announced by the Director General of the Government Information Department. We hope that this decision is the one which President Maithripala Sirisena has guaranteed to provide. We have requested for a discussion with President Sirisena for further clarification several days before. We did not receive a positive response to it yet," he added.
He said that the GMOA was ready to take a step forward by discussing these facts with the government and added that it was questionable whether the government was ready for it.
He said that they would wait a few days for a positive response from President Sirisena and other related authorities with regard to the issues they had raised before and added that the decisive decisions would be taken following the GMOA's Central Committee which would be meeting on Monday. (Kalathma Jayawardhane)