---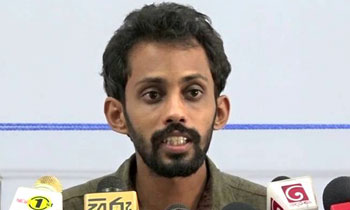 The Inter University Student's Federation (IUSF) said yesterday the six months' suspension on admitting students to SAITM would not make any difference and vowed to launch a countrywide protest campaign from today.
IUSF Convener Lahiru Weerasekara told a media briefing that they could not agree with the proposal made by the Deans of the eight State Medical Faculties and Higher Education Minister Lakshman Kiriella to suspend admissions to the South Asian Institute of Technology and Medicine (SAITM) until the completion of the periodic review of its medical degree programme.
"The suspension will not make any difference because SAITM does not enrolling students on a monthly basis. Admissions usually take place once or twice a year and this year's enrollments may have been completed by now," he said.
Mr. Weerasekara said the government was attempting to fool the Deans while supporting SAITM Chairman Neville Fernando to continue with his activities to privatise education.
He said the graduates were expected undergo clinical training in a state hospital and pass a licensing examination conducted by the Sri Lanka Medical Council (SLMC).
"We oppose these proposals and will not let up in our struggle to safeguard free education. SAITM should be abolished immediately. Our fight is not against standards but against the privatisation of free education," Mr. Weerasekara said and added that today's protest campaign would be launched from Kandy, Galle, Ratnapura, Anuradhapura and Kuliyapitiya. (Kalathma Jayawardhane)