---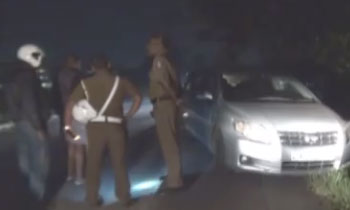 SAITM CEO Dr. Sameera Senaratne allegedly staged the shooting which took place in Malabe to falsely portray his life was in danger, Police said.
Investigations alleged that Dr. Senaratne together with a Pradeshiya Saba member, who is a close friend, and a driver of a local government body had planned and executed the shooting. Police said they were searching for both the PS member and the driver who have fled.
Meanwhile, Police yesterday arrested a resident of Embilipitiya in connection with the incident. The suspect had a 9mm pistol, a 3.8 revolver and a motor cycle which Police believe was used for the shooting.
The suspect was produced before the Kaduwela Magistrate Court yesterday and was remanded till March 13.

Police also questioned a former army special force soldier, who was in remand custody on other charges, regarding the incident.
Dr. Sameera Senaratne was also questioned at length regarding the incident on Monday, Police said.
The SAITM CEO escaped unhurt on February 6, when two men on a motor bike wearing full-face helmets opened fire at the car, driven by him near the SAITM campus in Malabe.
The Colombo Organized Crime and Prevention Division and the Nugegoda Special Crimes Investigation Division are investigating the incident.(Darshana Sanjeewa)