---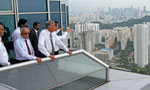 Singapore's South Asian Region Chief Executive Ong Kim Pong said he had already undertaken a study on the development of the Eastern Container Yard of the Colombo Port and pledged that the country's Ports Authority would extend its support to expand and modernise Sri Lanka's ports.
He said he welcomed the proposal expressed by the Sri Lankan Prime Minister to work with the South Indian Port. "Making maximum use of Sri Lanka's geographical location will give good results," Mr Pong added.
He said Sri Lanka could not only become a naval and shipping hub in South Asia but could play a role in making China's one stretch one route concept.