---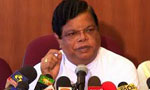 The value of the rupee against the US dollar has dropped to Rs.150 raising concerns among the people of possible price hikes on imports including food items and raw materials, the joint opposition MP Bandula Gunawardane said yesterday.
He said the rupee had drastically depreciated under the current Government and would lead to an economic crisis if remedial action was not taken.
"In 2012, it was Rs.127. It dropped to Rs.129 in 2013 and Rs.131 in 2014. Today, it is Rs.150. This is big drop. The prices of essential items are bound to rise as a result of the depreciation," the MP said.
He said sugar, dhal, milk powder, and lentils were among the widely consumed food items being imported to the country.
The MP who heads the economic research unit of the JO said it would affect the manufacturing sector as well.
"Last year, the rupee component of the country's total external burrowing plummeted by 285 billion. It is even higher than the total revenue of the government by way of the Valued Added Tax (VAT) last year. The government received only Rs.22 billion last year from VAT," he said.
The MP said in a desperate move the government released dollars from its reserves to stabilize the exchange rate but it would result in further economic issues.
"Last year, the government sold more than US$3.2 billion in the open market. From October this year up to now, US$164 million has been sold. This will lead to a crisis in the balance of payment," he said. (Kelum Bandara)