---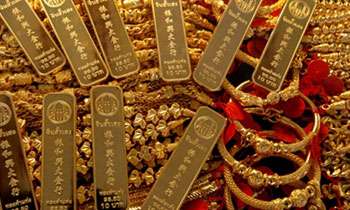 A massive stock of gold weighing 11.15 kgs and worth approximately 77.28 million Sri Lankan rupees, which was smuggled from Sri Lanka into Mandapam–Vedhalai Coast of Tamil Nadu, was seized by the Indian Directorate of Revenue Intelligence (DRI) on Wednesday, the Hindu reported.
The stock was seized after intercepting a bus in Madurai and three persons who were acting as couriers were arrested.
The DRI sleuths from Thoothukudi and Madurai intercepted the bus on Viraganur–Madurai Ring Road stretch and seized the gold on a tip off that foreign origin gold was being smuggled into India from Sri Lanka.
A DRI release from Chennai said the officials kept a watch on vehicles coming from Rameswaram to Madurai and found three persons being in possession of the smuggled gold.
The gold, in the form of cut pieces of different shapes and sizes and crude gold chains and a bangle, landed at Mandapam–Vedhalai coast around 8 pm.
"The three persons admitted that the gold was being smuggled into India from Sri Lanka by sea and they were transporting it to Madurai for monetary consideration," the DRI release said.
This is DRI's major seizure of gold smuggled into from Sri Lanka via the sea route this year.