---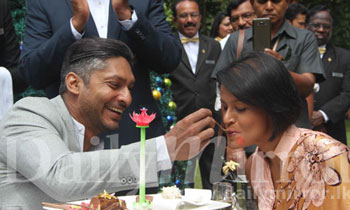 Responding to his twitter followers' criticisms made on Rs. 3. 8 million worth dessert, former star cricketer Kumar Sangakkara said yesterday it was just the launch of the dessert and no one had to pay the price on the day of the launch.
He tweeted and said 'It's the headlines that grab the attention. The details are lost to some'
Twitterites confronted Sangakkara over the news that Rs. 3.8 million worth dessert which he shared with his wife at Grand Hotel in Nuwara Eliya on Wednesday.
The dessert named 'Marry Me', was created by Master Chef Viraj Jayaratne to mark 25 years of his culinary journey.
Tweets were made by several followers criticizing the exorbitant value of the dessert and Kumar, being a part of that event.
One tweet by 'Para' read 'what a colossal waste of money and I cannot believe Sanga thought it was right to attend such an event considering that he has made a huge deal from his charity work in the past'
He continued to say 'next time when you are invited to such a vanity project, and asked to eat a 3.8 million rupee slice of cake, tell them to feed 100 homeless kids for a week instead. That will be more impressive than anything you have ever achieved in the cricket field'.
Another user 'Anuruddha Wimalasena' asked 'How many good things could have been done using that 3.80 mn?'
In another tweet, 'Rajitha Vandebona Jr' asked 'what was so special about that so called Rs.3.8 mn worth bite!? What did you eat exactly? Gold or Diamond?
When asked by 'Sasa (AVSS)' as to how he felt when eating that high- priced dessert, Kumar said 'the cake was very tasty and made with exceptional creativity. The ultimate value that makes it pricey is the blue sapphire offered on the cake to anyone who wants to buy the dessert,"
The rest of the Tweets came to defend Sanga. CA Praveen said it is not Sanga's idea or event, hence it would have gone on, even if Sanga said "no" to attending. Dessert valued at 3.8 mn doesn't mean that is how much they spend on it. It is the market price," he said.
Meanwhile, Pami said 'Some people tend to assume things on their own and start bashing without second thoughts. Take it light Sanga!' (Lahiru Pothmulla)