---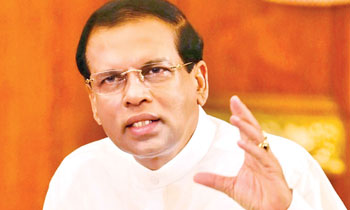 President Maithripala Sirisena, while highlighting the fact that Rs.48 million was allocated to construct the official residence of the Polonnaruwa Hospital's Director, stressed the need to have proper management and fiscal policies when spending public funds.
He told the District Development Programme "Pibidemu Polonnaruwa" in Polonnaruwa yesterday that a large morgue was constructed at the Bakamuna Hospital to accommodate 35 bodies.
The President said priority should be given to projects which focus on uplifting the economic status of under privileged people and developing their livelihoods and stressed the need for proper financial discipline and management when planning development projects.
"During the past three years the government has given priority for development projects to uplift economic standards of low-income families, than for mega development projects," he said. (K.G. Karunaratne)