---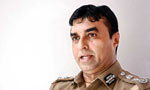 The Rs.25,000 fine imposed for seven traffic offences would be implemented soon after the ongoing discussions are completed, Police Chief Pujith Jayasundara said today.
He said this when he met journalists at a function held at the Police Headquartersto herald the New Year 2017 .
"This fine is aimed at wrongdoers. Innocent and law abiding people will not be affected by the increased amount," the IGP said.
He said all police personnel should strictly work on these fines and it was only then that road accidents could be minimized like in foreign countries.
"In other countries the rules and regulations are strictly implemented when it comes to traffic offences. We will be able to minimize road accidents if we also strictly implement these fines," the IGP said.