---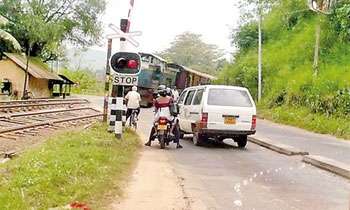 Laws had already been drafted to fine Rs. 25,000 from drivers who violated railway level crossing signal, Transport Minister Nimal Siripala de Silva said.
Attending an event in Hikkaduwa on Sunday, he said steps would also be taken to install CCTV cameras at main railway crossings.

Minister said at least 75 accidents had occurred at railway crossings each year and that new laws were needed to protect lives and properties.
He said a programme had been commenced to install 200 signal lights at a cost of USD 6.4 million.
Under the programme, a total of 175 bells would be installed on single railway lines, while another 25 would be installed on double railway lines.
In addition to these 200 signal light system, Cabinet approval has been obtained to install another 200 signals with the funds received from the Hungarian Government.
There are at least 1,337 railway crossings across the country but only 526 crossings had protected with either lights or bells.
"But there are still about 626 unprotected railway crossings across the country. We hope to reduce this number as well by installing security systems," Minster De Silva said.
He declared open 10 signal lights at 10 railway crossings during the event. (Darshana Sanjeewa)
Video by D. Ruwandi