---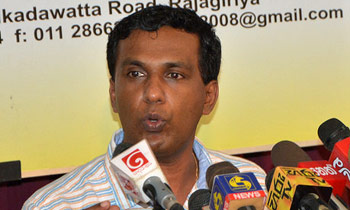 Sri Lanka has lost Rs. 1,953 million within just two and a half months from January 15 to March 31, this year due to the controversial deal struck with Swiss Singapore Overseas Enterprises Pvt. Ltd to provide coal to Norochcholai Power Plant, Anti Corruption Front (ACF) yesterday said.
Advisor of the ACF, Keerthi Tennakoon said Sri Lanka has to pay the company US$ 13.75 more for a metric tonne of coal compared to other companies that provide coal under the spot tender method to Sri Lanka.
He said the Ministry has today stopped purchasing coal through the open market and that under the instructions of Ministry Secretary Suren Batagoda, the Lanka Coal Company has purchased coal for a price of US$ 91.75 per metric tonne through the controversial tender.
"The price of a metric tonne purchased under the spot tender method was US$ 77.98. Had the government purchased coal under spot tender method, it would have only spent US$ 171,639,126. Therefore, we have incurred a loss of US$ 12,766,337 (Rs 1,953,249,561) from this deal," he said.
Mr. Tennakoon said we can only imagine the loss Sri Lanka will incur as the tender progresses and unfortunately the tax payer will have to dig deeper into their pockets to safeguard the country from this corrupt deal as well.
He said the loss incurred by this deal was only second to the Central Bank Bond Sale scam.
Meanwhile, responding to State Minister of Power Ajith P Perera's statement that those who criticize the deal are traitors, Mr. Tennakoon said the Rajapaksa Administration also labelled Board of Investment (BOI) Chairman Upul Jayasuriya and himself as 'traitors' when they exposed massive government corruption. (Lahiru Pothmulla)