---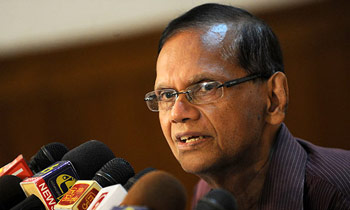 At least three supplementary estimates had been presented in Parliament this year seeking approval to purchase luxury vehicles worth Rs. 1,200 million for a number of ministers, deputy ministers and officers, the Joint Opposition (JO) said yesterday.
It said the government was hell bent on enjoying privileges by expending lavishly when common citizens are engulfed in economic crisis.
"The government has no sympathy towards the people who are suffering. According to the 2016 Central Bank (CB) report, the growth rate of the economy had decreased to 4.4% from 4.8% of 2015. The inflation had increased but foreign reserves had decreased. Instead of saving people from the economic plights, the government had resorted to purchase super luxury vehicles for its members," Professor G.L. Peiris told a news briefing.
He said the latest supplementary estimate which was presented in Parliament on Friday had sought Rs. 329 million to purchase vehicles for five ministers, two state ministers, one governor and a public officer.
"Rs. 43 million had been allocated to purchase a vehicle only for the Prime Minister's Secretary for Parliamentary Affairs. This was not a post which existed before," he said.
Mr. Peiris said the government had presented supplementary estimates at two previous occasions this year.
Rs. 371 million had been sought to purchase nine vehicles for ministers and deputy ministers while another Rs. 494 million had been sought at another occasion to purchase vehicles for seven ministers, three state ministers and one deputy minister. (Lahiru Pothmulla)