---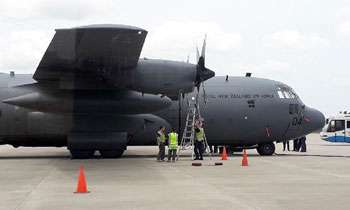 A Royal New Zealand Air Force military C-130 aircraft landed at the Mattala Rajapaksa International Airport (MRIA) this morning for refuelling and for crew resting, Airport Manager Upali Kalansuriya said.
He said there were 15 crew members in the craft.
It arrived at the MRIA from Indonesia and had scheduled to leave for Dubai tomorrow morning, he said.
Earlier, the world's largest cargo aircraft Antonov AN-225 Mriya and the world's second largest cargo plane Antonov AN-124 Ruslan landed at MRIA for refuelling and crew rest. (Chaturanga Samarawickrama)