---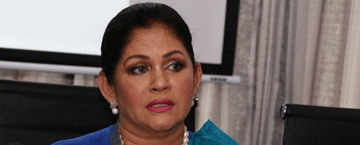 Deputy Head of the Prime Minister's Staff Rosy Senanayake today denied allegations, which have been levelled against her and the son in connection with the Bond scam.
Issuing a statement, the former MP said that what had been discussed and revealed to the Committee On Public Enterprises (COPE) was never disclosed to a third party when she was a member of it.
"I wish to reiterate that during the time I functioned as a member of the COPE nothing that was said before this committee was ever disclosed to a third party in an illegal manner. Although the name of my son had been mentioned before the Bond Commission no factual information had been presented to support this claim. The conversation referred to has taken place in 2016 during which time I was not a member of Parliament," Ms. Senanayake said.
She said certain media outlets had dragged her and her son's names into the Bond inquiry without any basis or proof. "This shows just how low the media is willing to stoop in order to sensationalise a story," she said.
Denying any wrongdoing, Ms. Senanayake said that from the very beginning she had engaged in clean politics and legal action would be taken against all those who had defamed her in this matter.
"I will make a broad statement over this matter when I return to Sri Lanka," said Ms. Senanayake who is currently overseas.