---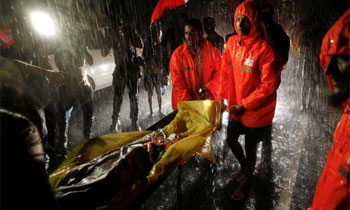 A boat carrying Rohingya refugees to Bangladesh capsized and at least 12 people, most of them children, drowned, police said on Monday, the latest victims of violence in Myanmar that has forced more than half a million people to flee.
The boat sank near Shah Porir Dwip, on the southern tip of Bangladesh, late on Sunday with up to 35 people on board, Bangladeshi police said.
Bangladeshi fishermen have been cramming their boats since late August with desperate Rohingya fleeing a Myanmar security crackdown that the United Nations has denounced as ethnic cleansing.
Bangladeshi police officer Mohammed Mainuddin told Reuters that 12 bodies - 10 children, one woman and a man - had been recovered.
A Reuters photographer earlier saw the bodies of four children, two women and a man washed up on a beach.
Authorities said 13 people had been rescued.
Some 519,000 Rohingya have fled Myanmar since Aug. 25, when attacks by Rohingya militants on police and military posts in Rakhine State sparked a ferocious response from Myanmar's security forces.
Myanmar rejects accusations of ethnic cleansing and has labeled the militants from the Arakan Rohingya Salvation Army, who launched the initial attacks, as terrorists.
The insurgents declared a one-month ceasefire from Sept. 10, which is due to end at midnight on Monday.
The ability of the group, which only surfaced in October last year, to mount any sort of challenge to the Myanmar army is not known but it does not appear to have been able to put up resistance to the military offensive unleashed in August.
It would be difficult for the insurgents to operate in areas where the military has driven out Rohingya civilians, in the north of Rakhine Sate, near the border with Bangladesh.
The insurgents said in a statement on Saturday they were ready to respond to any peace move by the Myanmar government, but also noted that the ceasefire was about to end.(Reuters)