---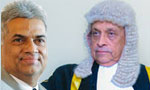 A public interest litigant today filed a fundamental rights petition against the request made by the Prime Minister for a ruling from the Speaker on the implication and/or constitutionality of the "Singarasa Case".
Petitioner N.Dharshana Weraduwage cited Prime Minister Ranil Wickremesinghe and the Attorney General naming him on the capacity as Attorney General as well as for the President Maithripala Sirisena.
The Supreme Court, in the Singarasa Case, made a pronouncement that "The Constitution of Sri Lanka and the prevailing legal regime do not provide for release or retrial of a convicted person after his conviction is confirmed by the Highest Appellate Court.
Supreme Court had ruled that therefore the State does not have the legal authority to execute the decision of the Human Right Committee to release the convict or grant a retrial.
It had noted that the government cannot be expected to act in any manner which is contrary to the Constitution.
The Court had also made pronouncements denying the constitutional competence of the President to accede the Optional Protocol of the ICCCPR.
The Petitioner states the Prime Minister had said in Parliament that the government reconfirms the continued validity and applicability of the Optional Protocol to the ICCPR and is firmly committed to implement its provisions.
Petitioner also states that Prime Minister had remarked that these Supreme Court's pronouncements denying constitutional competence of the President to accede the Optional Protocol of the ICCPR are obiter dicta (an incidental or passing remark, opinion, etc) being unnecessary for the determination of the Singarasa's application and do not serve as binding authority on the relevant question.
Petitioner complains that in the event of such a ruling, it may trigger a Constitutional crisis.
He maintains that such a ruling may be a clear violation of many Articles of the Constitution including Article 120 on Constitutional Jurisdiction of the Supreme Court, Article 125 on Constitutional Jurisdiction in the interpretation of the Constitution and Article 129 on Consultative Jurisdiction as well as Article 3 on the Sovereignty of the People, Article 4 on the Separation of Powers.
He contends that the person (the President) responsible for the appointment of the Prime Minister unable to take prompt and suitable action to prevent the happening of the crisis shall be a breach of fundamental rights of the Petitioner. (S.S.Selvanayagam)