---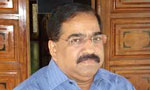 Former TNA MP Suresh Premachandran has demanded that the Opposition Leader R. Sampanthan who is also the leader of the Tamil National Alliance (TNA) and TNA MP M.A. Sumanthiran should resign from the Constitution Steering Committee and begin fresh talks with the government.
He said this at a media briefing held on Sunday at the Jaffna Media Society.
Mr. Premachandran said Mr. Sampanthan and Mr. Sumanthiran had opted not to speak out amid the Government stating that the the North and East would not be merged and Buddhism would be the state religion.
He said the Government had ignored the aspirations of the Tamil people and the demands made by the TNA for power devolution and the need to uphold the rights of the Tamils.
Mr. Premachandran said the Tamils had extended their support to the President with the hope of winning their rights through a new Constitution.
He said it was shameful for the Tamil leaders to remain in the steering committee to draft a new constitution. (Romesh Madhushanka)