---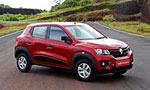 French carmaker Renault SA will recall some of its top-selling, entry-level cars in India, called Kwid, to inspect the fuel system, foreign media reports said yesterday.
Renault India will recall select units of the 0.8-litre variant of the Kwid produced up to May 18, 2016. The company did not immediately say how many cars would be affected.
"As a proactive measure, a fuel hose clip will be added to these select cars along with the evaluation of overall functionality of the fuel system to mitigate any potential disruption of fuel supply," Renault India said in a statement. Renault Kwid has become an extremely popular small car within a very short period of time in Sri Lanka with higher taxes slapped on better quality used Japanese cars.