---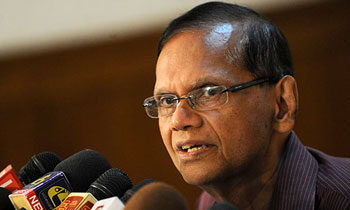 The joint opposition (JO) today requested President Maithripala Sirisena to remove Prime Minister Ranil Wikcremesinghe so as to ensure a free and fair trial on the Central Bank bond scam.
Sri Lanka Podujana Peramuna (SLPP) Chairman G.L. Peiris told a media conference that the President was unable to take any practical measures as long as Mr. Wickremesinghe continued to function as Premier.
"The Prime Minister's name was also mentioned in the bond report. He said he will take the responsibility for appointing Arjuna Mahendran as the Central Bank Governor. It is the Premier who is behind this. President Sirisena says he will use the 'sword' irrespective of the status of the wrongdoers. He should first use it against the Prime Minister," Prof. Peiris said.
He said the 'sword' should be next used on the COPE members who are alleged to have had links with PTL owner Arjun Aloysius.
Meanwhile, he said the convening of Parliament without publishing the Bond report was a useless exercise.
"If it is published at the last minute, there will be no time for anyone to study the report. There is no point in talking about something unknown," he said. (Lahiru Pothmulla)