---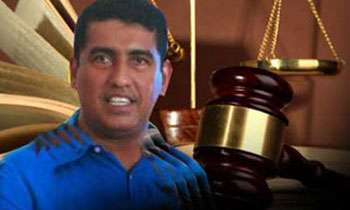 Filing a revision application in the Court of Appeal, President's Counsel Romesh de Silva today said the order given by the Kurunegala High Court Judge remanding former Minister Johnston Fernando pending the conclusion of the trial was legally wrong.
President's Counsel was of the view that the alleged High Court order was wrong on the face of it as the same court had previously enlarged Mr. Johnston Fernando (accused -petitioner) twice before and after the indictments.
According to the President's Counsel, initially, the prosecution had filed a B report against three suspects namely Johnston Fernando, Mohammed Shakeer and Nalin Fernando over an alleged purchase of certain goods from Laksathosa Limited violating the Public Property Act in Kurunegala Magistrate's Court.
However, later the Kurunegala Magistrate's Court refused to grant bail as the law requires bail to be granted by a high court judge, unless for exceptional circumstances.
Then the suspects filed a revision bail application and were released on conditional bail.
Subsequently, the Attorney General indicted the suspects in High Court.
Mr. De Silva said that his client had pleaded not guilty for the charges and subsequently on the same date he was released on bail again by the same High Court without any objection of the State.
"The Kurunegala High Court Judge was then transfered and the case was taken up before a new Judge. When the trial was finally fixed to be heard daily, the new Judge ordered the suspect to be remanded till the conclusion of the trial proceedings, even though there was no request a to do so,"said Mr. De Silva.
According to the President's Counsel, while remanding the suspect the Kurunegala Judge had said that it was the practice of the Court to do so. "Surely that cannot be the law which violates the Bail Act. What we have to understand is that bail is the rule, remand is the exception" Mr. De Silva said.
The petitioner has sought to issue notices to the respondent of the petition, to set aside the Kurunegala High Court order remanding him, pending the conclusion of the ongoing trial, and to make an interim order releasing him on bail.
The matter was taken up for inquiry before the Bench comprising Judge Achala Wengappully and Judge Janak de Silva.
Subsequently, the application was fixed for support tomorrow 1.30 p.m. by the Court of Appeal. (Shehan Chamika Silva)