---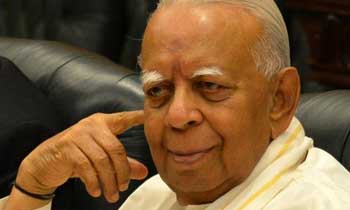 The Tamil National Alliance (TNA) will move an adjournment motion seeking the immediate release of those held under the Prevention of Terrorism Act (PTA).
Opposition and TNA Leader R. Sampanthan, who is expected to move the motion, said Sri Lanka had accepted both domestically and internationally that the Prevention of Terrorism Law is draconian, obnoxious and should therefore be regarded as obsolete.
"The Sri Lankan State has made several commitments both domestically and internationally that the said Law will be repealed, and that a new Law will be enacted in keeping with acceptable domestic and international norms. The Sri Lankan State is yet to fulfil this commitment, but that does not derogate from the Sri Lanka State's commitment that the said Law should not remain on the Statute Book.) The only evidence available against most of these persons are confessions extracted from them against their will under the Prevention of Terrorism Law which would be inadmissible against them in a normal Court of Law. Many of the cases have been postponed because the Prosecution is not ready to proceed with the Cases. Almost all of them have been in custody for very long periods of time, for as long as, they would have been sentenced, if sentence was passed on them shortly after being taken into custody. The families of these persons in custody have suffered for very long periods of time, without the support of their bread winners. This vitally important factor has not been given due consideration," the motion says. Also, the TNA said those, arrested during the JVP insurrections, were granted a general amnesty, and asked why the same principle could not be applied to Tamil PTA detainees.
"These cases cannot be considered as coming purely under the purview of the Attorney General's Department. With due respect to the Hon. Attorney General as the Chief Legal Adviser of the State, these cases have a certain political dimension and cannot be addressed as a purely legal issue. It can be justifiably stated that if Sri Lanka's national question had been reasonably addressed in time, many of the persons in custody, would not have been in their present position and would have been useful citizens. This circumstance makes it obligatory that you address this issue politically too. The issue not being addressed politically is a strong impediment to reconciliation and the restoration of goodwill and harmony. An unnecessary complication has been created by the transfer of some cases from Vavuniya to Anuradhapura. If witnesses needed. 0protection, such protection could have been provided without the cases being transferred," the motion states.