---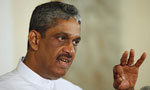 Regional Development Minister Field Marshal Sarath Fonseka today requested President Maithripala Sirisena to take necessary legal steps to release the person who is imprisoned in connection with the suicide bomb attack on him at the Sri Lanka Army Headquarters in 2006.
Addressing a media briefing in Colombo, he said the President had set a noble example by pardoning the person who had attempted to assassinate him in a suicide attack in Colombo in 2008.
Similarly, Minister Fonseka said he too wanted to pardon the person convicted of attempting to assassinate him in 2006.
"The person who tried to kill me in the suicide bomb attack is still in prison. He talked to me when I served my jail term. He sat with me on the same bench in the prison and told me how he hatched the plan to eliminate me. He also told me how he falsified facts during Police interrogations," he added.
He said there was a massive embezzlement of money while constructing the Southern Expressway during the former regime. He said the highway was planned to be built with three lanes on each side but it was limited to two under the guidance of that government.
"The southern express way may be the one and only highway in the world which consists of a huge iron bar in the middle of the road to separate the two lanes," he added.
He said the former government had made a contradictory opinion about the war-victory. He also said there isn't any ruler in the world who published posters, cutouts, banners, booklets etc. to display that he had ended the war.
He said the former regime had taken large scale loans for various projects including $ 500 million for the harbor, $ 300 million for the Mattala Rajapaksa International Airport (MRIA).
He also said there were grave irregularities in the purchase of MIG aircraft at that time.
"The former regime's MIG deal took place in three stages. Two of these steps were to pay money. It was done through former defence secretary Gotabaya Rajapaksa. The amount was US $ 100 million involving an inactivated company in England," he said. (Kalathma Jayawardhane)
Video by Danushka