---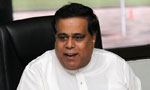 While emphasizing the necessity to have a speedier judicial system to hear sensitive and public interest cases, SLFP ministers today urged the government to refer the charges against Yoshitha Rajapaksa to Court and to let it decide his innocence or guilt.
Minister and Senior SLFP Vice President Nimal Siripala De Silva told the media that there were serious allegations levelled against Yoshitha and that the SLFP politicians and supporters were concerned about the arrest because it was carried out by the Financial Crime Investigation Division (FCID).
"We do not agree with this arrest having opposed the setting up of the FCID and shooting down a cabinet paper presented by Prime Minister Ranil Wickremesinghe on the FCID," he said.
The minister said the Attorney General must speed up the legal proceedings against Yoshitha because the entire country was watching the case closely and added that he must not be kept in remand custody for months with the case dragging on for several years.
"That is why the SLFP of the view that there must be an accelerated legal system to hear cases of a highly sensitive nature," he said. "A suspect is deemed innocent until proven guilty. We won't comment on the charges levelled against him. But we are sorry for his present predicament as he is the son of one of the patrons of our party. That is why we ask the government not to incarcerate him for years and mete out justice as early as possible."
Commenting on attempts to split the SLFP and form a new party by certain politicians who were elected to Parliament on the back of the SLFP, the minister said they were under a contract from the UNP to ensure its victory at the Local Government polls.
"This became apparent when Udaya Gammanpila told a talk show this morning that no one could prevent UNP's victory unless there was no split in the SLFP. But what we and all right thinking people with a sound mind say is that the SLFP must remain a strong political party to defeat the UNP and the victory of the SLFP will be much easier if we split the UNP," he said.
Responding to a journalist the minister said though the UNP and the SLFP were in agreement on the process to establish a Constitutional Assembly to draft the Constitution or to introduce Amendments, it should only be done with the consensus of all stakeholders.
"The debate on the resolution would be taken in the month of February with the consensus of all political parties in Parliament and then the Constitutional assembly will start the Constitutional reform process," he said. The Amendments will have to be approved by the Cabinet and then submitted to the Supreme Court before taking up for voting in Parliament." (Sandun A Jayasekera)
Video by Richan