---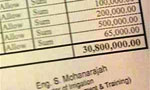 Though Rs. 30.8 million had been approved for the expenses of a Farmers Conference organised by the Irrigation Ministry, Irrigation Department Director General today said that they were trying to reduce expenses to Rs. 20 million.
"We prepared the basic estimate draft to keep the event within a budget framework. However, we expect to reduce the organising expenses by Rs.10 million," Director General S.S.L. Weerasinghe said.
He said Ministry Secretary R.M.W. Ratnayake had approved the estimate draft which was recommended by him.
Accordingly, Rs.8 million was allocated for lighting, sounds, backdrops, LED walls and audio while Rs. 4 million had been allocated for the supply of bags with Litha and souvenirs, Rs. 7.5 million to provide transport facilities for farmers, Rs. 6 million for meals and refreshment for farmers and officials, Rs. 750,000 for the reservation of the BMICH premises and Rs. 1 million for paper serviettes.
President Maithripala Sirisena was scheduled to attend the event which would be held at the BMICH this evening. (DS)