---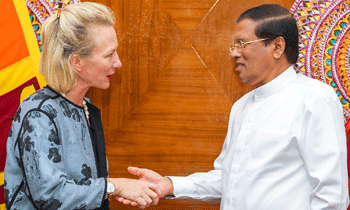 Visiting US Acting Assistant Secretary of State, Alice Wells said that the US highly appreciates the "ambitious reforms agenda and historic steps towards reconciliation boldly under taken by President Maithripala Sirisena"
Ms. Wells made this statement when she called on President Maithripala Sirisena at the President's Official Residence in Colombo on Wednesday, the President's Media Division said.
She has praised the progress made by Sri Lanka under the leadership of President Sirisena in the democratic reforms and reconciliation process.
She said that the US would continue to extend fullest support to Sri Lanka's development process and reconciliation.
Ms. Wells expressed appreciation over the progress made by Sri Lanka in many areas such as transitional justice, communal amity, constitutional reforms, development and peace and stability.
President Sirisena pointed out that few extreme elements in the North and South level baseless allegations against the government to take undue political advantages, but the government is determined to implement its programmes for reconciliation and development undeterred.
"Though the progress is slow, it is steady and stable," he said.
Ms. Wells said that the US considers Sri Lanka as an important partner in South Asia and would continue to extend whatever possible assistance.
She said that President Donald Trump finalized the new strategy programme for South Asia and the Pacific Region and Sri Lanka is prominent among the partners of the US in this region.
She said Sri Lanka has been listed for assistance under the US government foreign aid agency, Millennium Challenge Corporation in the near future.