---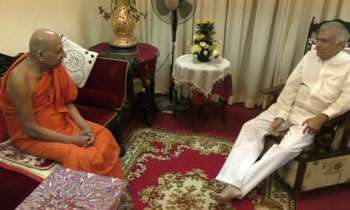 Prime Minister Ranil Wickremesinghe called on the Mahanayake Theras of Asgiriya and Malwathu Chapters and discussed the current political situation and economic issues of the country this morning.
He held talks with Mahanayake of the Asgiriya Chapter the Most Venerable Warakagoda Gnanaratana Thera and Mahanayake of Malwatte Chapter the Most Venerable Thibbatuwawe Sri Siddhartha Sumangala Thera.
The Mahanayaka Theras told the Prime Minister that the prices of essential commodities appeared to have dropped to some extent during the Sinhala Aluth Avurudu period and it should be sustained to avoid economic difficulties of people.
The Prime Minister then informed the Venerable Mahanayake Theras that he hoped to continue the Unity Government together with the SLFP members, who were willing to remain with the Government.
He had also briefed the Mahanayake Theras on the challenges faced by the Government during the past years.
Prime Minister Wickremesinghe, who spoke to journalists after the meeting, said he would have a meeting with President Maithripala Sirisena upon his return from the UK on the future of the Government.
"I met the Prelates for the Sinhala Avurudu and sought their blessings. I explained them about what we intend doing in the future," he said.
"We have faced some challenges during the past year or two and might face more challenges and hope that we will not experiences such challenges such as natural disasters," he said
Minister Lakshman Kiriella and several other UNP politicians in the district participated. The Prime Minister and UNP members engaged in religious observances at the Dalada Maligawa later. (Yohan Perera and J. A. L. Jayasinghe)