---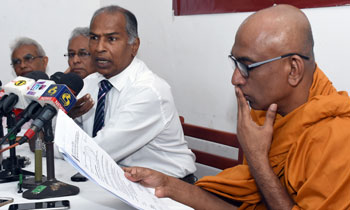 MP Ven. Athuraliye Rathana Thera today said his dreams to get good and valuable things done from the present government were shattered and he is now left with only one dream, and that is to prevent the government from at least making any harmful decisions.
The Thera expressed these views during a news conference organised by the National Council of Sri Lanka (NCSL) in Colombo over the detrimental conditions of the proposed China-Sri Lanka Free Trade Agreement (CSLFTA).
"As of this moment, my hope is not to get good things done from this government. Those dreams of ours had been shattered. Now our dream is to prevent the government from making detrimental moves. After electing the government into power, we know that not only the Cabinet but we too have a responsibility to prevent detrimental moves from taking place," he said.
The Thera said he was disappointed that the current trade agreements had been stemmed from the corrupted hearts of individuals and some officials with vested interests.
Quoting a letter issued by the Prime Minister's Office over the trade agreement, the NCSL said the Cabinet Committee on Economic Management had agreed to phase out and remove the CESS over a period of five years since the implementation of the trade agreement with China.
"Removal of CESS is a major blow to the local industries. This levy was introduced to protect our industries and products from foreign imports. We can't simple remove it," the prelate said.
He said a 20-member delegation of the Council met President Sirisena in this regard on Friday and the President had assured not to sign any harmful agreement.
"The President also agreed to immediately respond to our request made to establish a 'National Policy and Planning Commission' to make decisions about the foreign trade agreements. This Commission should consist of two legislatures, one with the representation of political authorities including MPs and another with the input of relevant ministry secretaries, experts in the fields and academics. By a joint Council, we expect to prevent vested and arbitrary actions of individuals," he said. (Lahiru Pothmulla)
Video by Susantha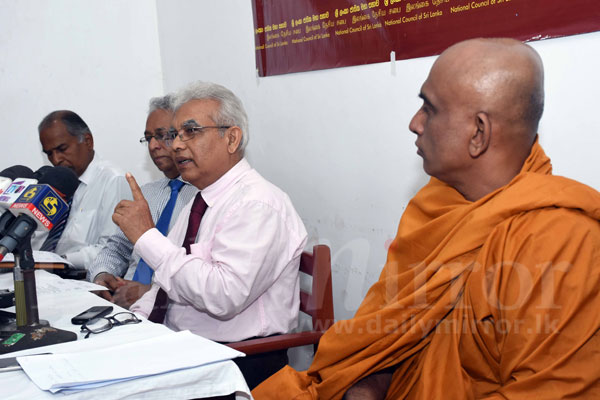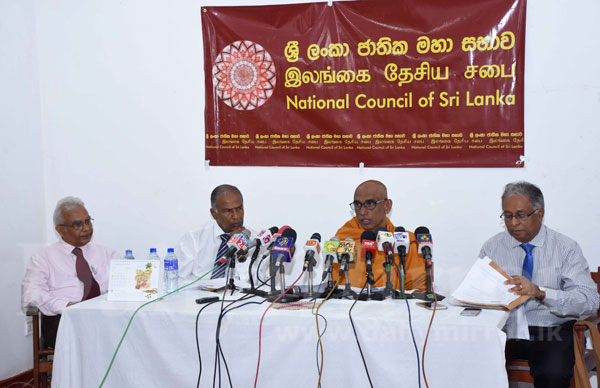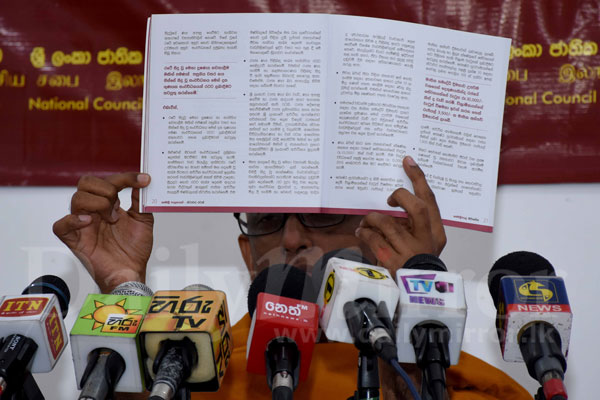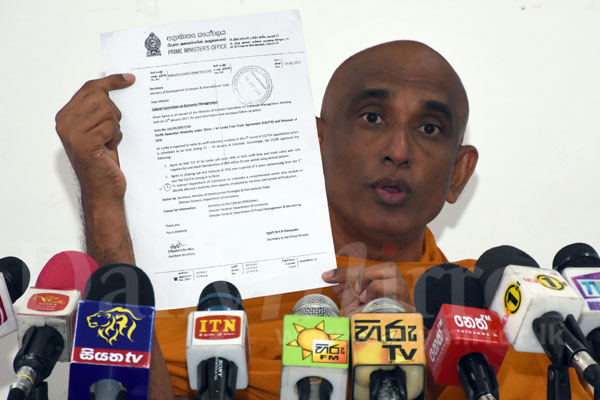 Pics by Kushan Pathiraja