---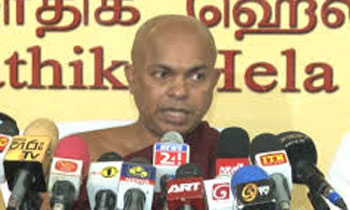 The Jathika Hela Urumaya (JHU) said today the Ven. Athureliya Rathana Thera had reportedly met the United National Party (UNP) Leader to discuss joining the party in violation of the MoU signed between the JHU and the UNP in 2015.
JHU Co-Chairman the Ven. Hedigalle Wimalasara Thera said Rathana Thera had no right to join the UNP for the simple reason that he entered Parliament through the single slot allocated to the JHU in the national list as one of the conditions of the MoU.
"According to the MoU, any decision on the slots allocated in the national list can only be taken by the respective parties and as such only the JHU can decide on matters regarding its slot on the national list," the Thera said.
Wimalasara Thera said the JHU was ready to take Rathana Thera back to the JHU if he recanted his decision to act independently in parliament.
"Ven. Rathana Thera should withdraw his decision and work with the JHU. He cannot join the President or the Prime Minister as laid down in the MoU. Rathana Thera is trying to win the favour of the UNP and the President by participating at events attended by the President. This is no way will divert or dilute the disciplinary action against him," Wimalasara Thera said.
He said a committee headed by him was appointed by the JHU Central Committee to take disciplinary action against Rathana Thera and that the investigations had already begun. (Ajith Siriwardana)
Video by Indika Sri Aravinda