---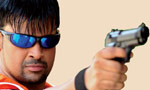 Deputy Minister Ranjan Ramanayake came under fire in Parliament today for using the premises of the MPs' housing complex in Madiwela to do target practicing for a film shoot.
JVP Leader Anura Kumara Dissanayake, angered by the move, asked Mr. Ramanayake not to consider every place in the country as theatres for film shooting. Mr. Ramanayake, the actor cum MP, was not present at the time in the House.
Then, Joint Opposition MP for the Moneragala district Padma Udayasantha Gunasekara raised a question of privilege in this regard, and said the spouses and children of MPs had been terrorised by this act of the Deputy Minister.
"This is a place where the MPs live with their families. I too live there. I am asking that member to stop this. Our children have been frightened now," he said.
Prime Minister Ranil Wickremesinghe replied that he asked the member concerned to stop target practicing at this site.
"It was brought to my notice by MPs Dinesh Gunawardane and Bandula Gunawardane. So, it was stopped. We can provide him the police shooting ground if needed," he said. (Kelum Bandara and Yohan Perera)