---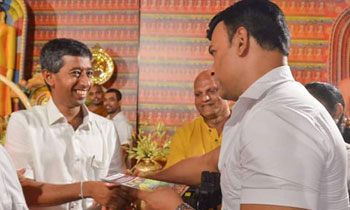 Deputy Minister Ranjan Ramanayake and Government Medical Officers' Association (GMOA) President Anurudha Padeniya who were seemingly on a collision course buried the hatchet today.
The deputy minister and Dr Padeniya had visited the Sambodhi Vihara at Gregory's Road yesterday to participate in religious observances for Vesak when the Ven. Daranagama Kusala Dhamma Nayaka Thera met both of them and advised them to iron out their differences and make peace with each other.
"I reconciled with Dr Padeniya following the advice given by the prelate and shook hands," the deputy minister said.
He had earlier accused Dr. Padeniya had arranged to see patients at a private hospital on Friday evening amid the doctors on a token strike during the day. The deputy minister had channelled Dr. Padeniya. "I did this to expose Dr. Padeniya," the deputy minister had said earlier in the day. (Yohan Perera)