---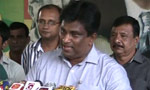 Power and Renewable Energy Deputy Minister Ajith P. Perera said the 'porondam' (compatibility) chart of President Maithiripala Sirisena and Premier Ranil Wickremesinghe were fully agreeable and that the marriage between the two would continue for five years.
"There is a lot of talk about marriage and divorce nowadays but this political marriage between the two of them will continue. The marriage took place with a lot of vision and long-term understanding," he said.
The deputy minister told electoral organisers at his party office in Bandaragama that the mode of the "marriage" was irrelevant due to its strong compatibility.
"Be it a marriage through love affair or though a proposal or a mixture of the two, the fact remains that the bonds are strong. How the marriage came about is irrelevant because what matters the most is compatibility," he said. (Bimal Sharman Jayasinghe)
Video by Bimal Shaman Jayasinghe