---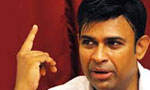 Deputy Minister Ranjan Ramanayake on Tuesday came out against a minister, who had shielded his ministry officers from being interrogated by the FCID when they were called to give a statement.
Mr. Ramanayake said this minister had told the officers not to go to FCID and that he will take care of the investigation carried out by the FCID.
"This is nothing but providing oxygen for robbing public property," he said.
"Neither my superior, Minister S B Dissanayake nor me would have stopped our officers from going to the FCID. I would give our ministry officers money to spend for their food and traveling if they were called to give a statement," the Deputy Minister said.
Further he said the police or any other investigating body has the right to call any one to give a statement under the criminal code and there are no provisions for a minister to stop any one from going.
"I have complained about this minister to the President and to the Prime Minister and they were both of the opinion that any public officer is liable to give statements if the FCID or any other body calls upon them to do so," he added.
Referring to the resignation of Bribery Chief Dilrukshi Dias Wickramasinghe, the Deputy Minister said she should not have rushed in her resignation. " She should have been able to take criticism," he added. (Yohan Perera)