---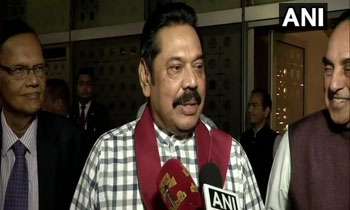 Former Sri Lankan President Mahinda Rajapaksa on Monday refused to comment on the recommendation made by the Tamil Nadu cabinet to release all the seven convicts in the former Prime Minister Rajiv Gandhi assassination case.
On his arrival to India, Rajapaksa said, "It is up to the Indian government to decide. I do not want to comment on that, it is a legal matter."
On Sunday, Tamil Nadu cabinet recommended the release of all seven life convicts in the case to Governor Banwarilal Purohit under Article 161 of the Constitution.
All the seven convicts - Nalini, Perarivalan, Murugan, Santhan, Robert Pious, Jayakumar and Ravichandran have been in jail for the last 27 years. Murugan, Santhan, Jayakumar, Robert Pious are Sri Lankan nationals.
In May 1991, Rajiv Gandhi was assassinated by a suspected Liberation Tigers of Tamil Eelam (LTTE) suicide bomber, during an election rally in Sriperumbudur. LTTE was a Tamil militant organisation, based in northeastern Sri Lanka. (ANI)