---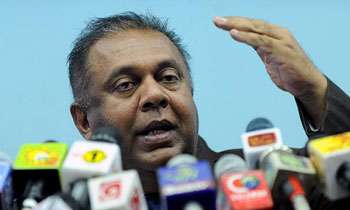 Taking a swipe at former President Mahinda Rajapaksa and former Defence Secretary Gotabaya Rajapaksa, Finance and Mass Media Minister Mangala Samaraweera today said that both former leaders now seem to be engaged in an untiring effort to throw the country again into "Vipath Maga" (the destructive path).
In a seeming response to the lecture delivered by former Defence Secretary at the Annual Convention for 2018 of his movement "Viyathmaga" (path of intellectuals) on May 13, the Minister said in a statement that both former President who is responsible for ruining this country by allowing his family relatives and cronies to plunder the country's economy and his sibling, former Defense Secretary Gotabaya Rajapaksa who unleashed terror through the white van culture that isolated the country internationally have lost memory.
"Gotabaya Rajapaksa who invented white van terror in Sri Lanka that attracted world attention has said recently that the rulers and the public officials should be free of corruption. Mr. Rajapaksa who could be considered as the most corrupted and dangerous public officer ever appointed in this country, is now talking like a child, Samaraweera said.
Several cases being heard in Courts and investigated by Police against him currently including the case on MIG deal, case on plundering public funds to construct memorial museums and name them after his parents, unleashing assault on journalists and enforced disappearances, some of them instigating corruption and terror and maintaining illegal armoury thereby depriving the Government of its due income, are some of them, the minister went on to say.
He said that the former leaders have been envious of this Government as it was able to strengthen the local economy despite many challenges after 2015 and Rajapaksas have been fabricating statistics and distorting the truth in an attempt to mislead the public.
Retorting the purported claim by Gotabaya Rajapaksa that the debt crisis was created by the Yahapalana government, the minister said that only US$ 863 million have to be paid for the debt that was borrowed after 2015.
Since gaining independence in 1948, the highest amount of foreign debt has to be paid in 2018. The total foreign debt to be paid this year is US$ 2,845 million out of which US$ 1,789 million has to be paid as foreign debts which were borrowed prior to 2015. Only an installment of US$ 1,056 to be paid for the foreign loans borrowed after 2015. Accordingly, 63% of debt installments that is to be paid this year are repayments of debts that had been borrowed during Mr. Rajapaksa's tenure as finance minister" Samaraweera claimed. Although 1.8% of the GDP was spent for education in 2014, it was gradually increased up to 1.9% in 2017. It will further be increased up to 6% in the next few years. The allocation for health will be increased up to 3.5% of GDP in the next few years. The allocations for public welfare have been increased to 265 billion rupees in 2017 from 165 billion rupees in 2014. It is an increase from 1.6% to 2% of GDP, he said.
"The economy during the previous government, handled by their cronies and henchmen didn't have any proper system in place to implement the economic development in a manner that would benefit the people. Rajapaksa siblings who ruled this country under such a background have been attempting to regain power by throwing the people into "Vipath Maga" the destructive path. Therefore we urge the people to defeat such attempts and rally round the Government's agenda to build a strong economy and a rich country by the year 2025," he added.