---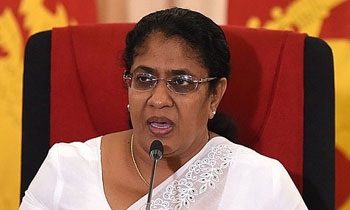 Foreign Employment and Justice Minister Thalatha Atukorale yesterday rejected claims made by former president Mahinda Rajapaksa that the Rajagiriya flyover and the Moragahakanda Multi-Purpose Development Project (MMDP) were planned by his government.
She told a gathering at Ratnapura that Mr. Rajapaksa had also made similar claims during the construction of the Mahaweli Development Project.
"Mr. Rajapaksa must be day dreaming," the minister said.
She said it was uncertain whether Mr. Rajapaksa was aware of the construction of the Rajagiriya flyover but might have been planning how to earn his portion of the commission from the projects which had been carried out under his government.
"Several people are asking us about the work we have done for past two years. The country has been destroyed by these people during the past ten years," the minister said and added that some political parties were attempting to label Prime Minister Ranil Wickremesinghe as a thief and said she was prepared to give up her portfolio if any such allegation was proved in the court of law. (Kalathma Jayawardhane)