---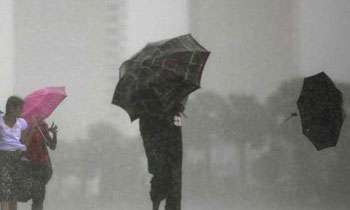 The heavy rains in the onset of the Southwest Monsoon has exceeded 300mm in some areas by this morning, the Department of Meteorology said.
It said the highest rainfall of 353.8mm was recorded from Anamaduwa while rainfalls of 339mm and 302mm were reported from Andigama and Kamalsram in the Puttalam district.
Heavy rains were reported in number of other areas as well with Matale having a rainfall of 267.5mm, Kudawa in Ratnapura district 236.6mm, Kuliyapitiya 232mm and Horagasgara in the Puttalam District having a rainfall of 232mm.
Meanwhile, Kukuleganga in Kalutara had a rainfall of 227mm, Dummalasuriya 217.4mm and Delwala in the Ratnapura district a rainfall 203.5mm.
When asked whether the 353.8mm rainfall in Anamaduwa was the highest in the country's history, a Met Department spokesman said Sri Lanka had received much higher rainfalls in the past.
"The country has had rains of more than 700mm in the past in Deniyaya while the Kalutara district received a rainfall of 500mm last year," he said.
The reason for the heavy rains was said to be an atmospheric disturbance brought about by the Southwest Monsoon.
The Met Department forecast heavy rains in the Sabaragamuwa, Western, Central, North Western provinces the Galle and Matara Districts in the next few days. (Yohan Perera)
Video by RM