---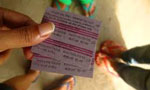 The Railway department had increased the penalty fine to Rs 3,000 for those who travel without tickets with effect from today, Railway Commercial Superintendent A.D.G. Seneviratne said.
"According to the instructions of Transport Minister Nimal Siripala de Silva the Railways Department had increased the fine with effect from today," he said.
Earlier, a commuter traveling in the third class compartment without a ticket had to pay a fine of Rs. 900, a second class compartment commuter Rs. 1,100 and a first class commuter Rs. 1,650 then it was increased to Rs.2500 in 2013. But now it had been increased up to Rs.3000.
"The Minister wanted to increase the fine on ticketless travellers since train fares are the lowest when compared with other public transport services. He also wants to double the fines for people travelling in first and second class carriages with lesser tickets," Mr. Seneviratne said.
According to the rules and regulations to the Railway Department, fines will be charged on the ticketless travelers along with double the train fare.
The Railway department requests the commuters to travel always with a valid train ticket in the relevant compartment to avoid facing any inconvenience. (Chaturanga Pradeep)