---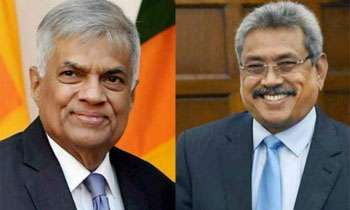 During the meeting held between UNP Leader Ranil Wickremesinghe and Gotabaya Rajapaksa yesterday, the duo have discussed measures to be taken to avoid any chaos, Mr. Rajapaksa's Spokesperson Milinda Rajapaksha said.
Measures to avoid negative perceptions from the international community that could unexpectedly erupt in the face of the prevailing volatile situation, were also discussed.
Milinda said Mr. Rajapaksa went to Temple Trees as a nominee of the President and the Prime Minister on the invitation of Mr. Wickremesinghe.
"The meeting was a closed door discussion with no other parties present. Mr. Rajapaksa has mentioned that the President and the Prime Minister have garnered the confidence and support of the majority in Parliament. Mr. Wickremesinghe has in turn expressed that he too was confident of the support of the people to protect the democracy and supremacy of Parliament and he is ready to prove it," he said.