---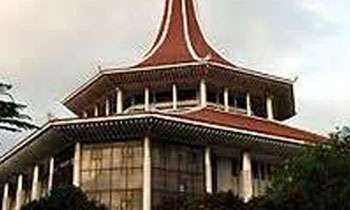 The Court of Appeal's Acting President Justice Deepali Wijesundera today declined to be a member of the bench appointed to hear the Quo Warranto petition that was filed against Prime Minister Ranil Wickremesinghe being a member of Parliament.
The matter came up before Justices Deepali Wijesundera (Acting President/CA) and Arjuna Obeysekera and was transferred to Court Number 110 of Justices.
A.L.S. Gooneratne and K. Priyantha Fernando are to be mentioned today for fixing a date to support Colombo Municipal Council's UPFA member, Sharmila Gonawela, who is the co-president of 'Women for Justice' and cited Ranil Wickremesinghe, Akila Viraj Kariyawasam and Parliament General Secretary Dammika Dasanayake and two others as respondents.
The petitioner states that Mr. Wickremesinghe is a shareholder of a private institution which secured contracts for the supply of printing materials to public enterprises. She is seeking court to issue an interim order preventing him from functioning as an MP until the final determination of the petition.(S.S.Selvanayagam)
Video by Prasanna