---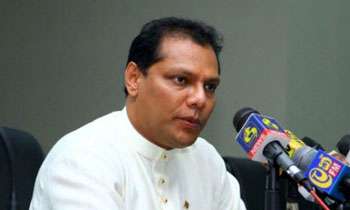 President Maithripala Sirisena has told the 'rebel' group of 16 former Cabinet, State and Deputy Ministers, who left the government, to decide when the rest of the SLFPers should quit the Yahapalana Government, former Sports Minister and Kurunegala District Parliamentarian Dayasiri Jayasekara said yesterday.
Mr. Jayasekara added that President Sirisena has expressed his desire to see the remaining 23 SLFPers in the unity government leaving it sooner rather than later.
Mr. Jayasekara added that the reorganisation, strengthening of the party from the grass-roots level, recruiting new members and the remaining 23 SLFP members leaving the 'Yahapalana Government' were the strategies discussed at the Central Committee meeting held at the President's official residence at Mahagamasekara Mawatha on Thursday (17) night.
Addressing the media at the 'Media Centre of Freedom' in Colombo, Mr. Jayasekara said the group of 16 rebel SLPEers had handed over their plan to President Sirisena that explains how the SLFP would campaign as a single political front at all future elections and bring the SLFP to power in 2020 by winning the upcoming Parliamentary and Presidential elections.
"We sent our proposals earlier to President Sirisena in writing and discussed them further last afternoon and he was in complete agreement to our strategy," Mr. Jayasekara stressed.
Accordingly, it was decided at the CC meeting to subject the SLFP to a complete revamp starting with a new set of office bearers on June 3 at a combined general assembly with the participation of the CC, Executive Committee, Parliamentary Group and All Island Working Committee of the party. (Sandun A Jayasekera)
Video by Susantha