---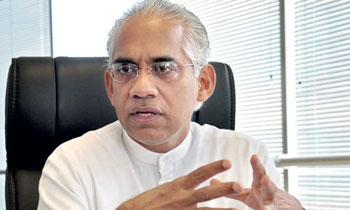 Quick action should be taken against former Central Bank Governor Arjuna Mahendran but it would take time because of the legal process in Sri Lanka, which is a time consuming one, State Minister of Finance Eran Wickramaratne said today.
State Minister Wickramaratne told a media briefing today that action would be taken against Mahendran upon the warrant issued against him by the Court.
"We hope that quick action would be taken against Mahendran but it is not possible because of the legal system in Sri Lanka, which is a time consuming one," the State Minister said.
However, he said action against all wrongdoers would be expedited with the Special Courts, which would be established in August this year.
Mr Wickramaratne also said that action should have been taken against Perpetual Treasuries Chief Arjun Aloysius and CEO Kasun Palisena months ago.
"I am a person who called for a probe on the bond issue right from the beginning. We were of the opinion that the bond scam has begun before 2015 and this has been confirmed by the Presidential Commission which carried out investigations," he added.
He said people should focus on the Presidential Commission on Serious Acts of Fraud, Corruption and Abuse of Power, State Resources and Privileges (PRECIFAC) report as well because it had made several serious recommendations.
"The PRECIFAC report had faulted several members of the Rajapaksa family and former Ministers. One cannot afford to ignore this report as it was presented to President by a Commission, which comprises prominent legal experts including the incumbent Chief Justice Priyasath Dep, Supreme Court Judges Anil Gunaratne, High Court Judge Gihan Kulatunga, and retired Auditor General Sarath Mayadunne. The acts of corruption revealed in PRECIFAC report worth billions as well," he said. (Yohan Perera)