---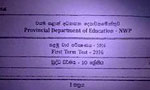 One of the questions in the multiple choice question paper (MCP) for the Buddhism subject set by the North Western Province Education Department for the first term test in schools have been criticized by the public and education sector trade unions for its incongruous answers.
The Sri Lanka Teachers' Union said for example question No.20 in the Buddhism question paper for Grade 10 contained a multiple choice question to name the great ruler who saved the country from foreign invaders and got the book of his meritorious deeds read while lying on his death bed and breathed his last glancing at the Cheithiya built by him.
The four optional answers were; 1. Former President Mahinda Rajapaska, 2. First Executive President J.R.Jayawardene 3. King Dutugemunu, and 4. King Parakramabahu the Great.
The trade union accused the examiners of insulting the former heads of state through that ridiculous question. They questioned as to why the Buddhism question paper contained only 20 questions while the Christianity question paper contained 40 questions.
A representative of the Ceylon Teachers' Union said the date of examination for Information Science had not been mentioned in the time table.
However Director of Education, North Western Province J.G.S.Tilakaratne said he had not yet received any complaint in this regard. He said the question papers were printed at the State Printing Corporation and that that any errors in them could have been printing mistakes. (Pushpakumara Jayarante)