---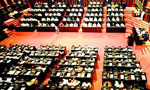 Leaders of all political parties represented in Parliament, at a meeting held today, decided against increasing the allowances given to MPs that was proposed recently.
Accordingly, the decision to increase the office allowance upto Rs 75,000, the telephone allowance upto Rs 50,000, the allowance paid to chairpersons of committees for attending committee meetings upto Rs 5000 and the allowance paid to committee members for attending these meetings had been suspended.
In addition the new proposal of paying an allowance of 2500 to each member for attending Constitutional Assembly was also put on hold.
However, the decision to pay Rs 50,000 as an housing allowance to seven MPs who did not have quarters had not changed and would be paid as planned. (Yohan Perera)