---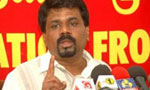 The Janatha Vimukthi Peramuna (JVP) today called for an inquiry into refusal by two of the five committee members to sign the delimitation report.
JVP leader Anura Kumara Dissanayake said the report was compiled by a committee appointed to draft an error-free report after allegations that the previous report was prepared on a political agenda and contained several blunders.
"The delimitation report compiled by the previous government was confusing. The delimitation was carried out by former minister Basil Rajapaksa at houses of SLFP organizers. So there was a need to compile a proper report. That is why a committee was appointed and had released their report. There must be an inquiry into why two members did not sign it," he said.
The MP told a news conference that the proposed electoral system was problematic as it was drafted on the requirement of former minister Basil Rajapaksa and even the then Provincial Councils Minister was unaware about it.
"This electoral system allows only for a two-party system and expels other political parties. Even the Elections Commission Chairman says that some changes should be made to it. We are ready to submit our amendments. That complicated electoral system does not represent peoples' mandate reasonably," he said.
The MP said the JVP had proposed that this local government election should be held under the proportional representation system because nobody knows as to when an election could be held under the proposed complicated system.
He said the government was becoming the saviour of those involved in fraud and corruption instead of punishing them and acquiring the stolen property.
The MP said the government had done little or nothing to stem the rising price of rice in the local market. (Ajith Siriwardana)