---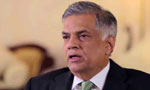 A task force is to be appointed to look into developing public/ private partnerships to train youth to become successful players in the job market, Prime Minister Ranil Wickremesinghe said yesterday.
Prime Minister Wickremesinghe who was speaking at the Convocation of the Benedict the XVI Catholic Institute of Higher Education said a task force headed by corporate sector personality Ken Balendran had been appointed to look into the building of public/ private partnerships for job market training.
Further, he said the government is looking towards getting in an agreement with the private degree awarding institutes to produce science, mathematics graduates.
"Science and Mathematics for the GCE Advanced Level examination are taught in limited number of schools. The intention of this government is to expand this. To fulfil this purpose, we have decided to recruit 2,000 graduate teachers. Unfortunately, we cannot find enough graduates in the public university system. Therefore, we have decided to recruit Advanced Level qualified persons to fill the vacancies for science and mathematics teachers. But these Advanced Level qualified youth will be allowed to complete their degrees while teaching," the Prime Minister said.
He said degree awarding institutes can help by allowing the selected youth for teaching jobs to complete their degrees in their institutes. "These youth could have a different degree courses to suit their needs," the Prime Minister said.
He said the government is also faced with finding IT trainers and to find suitable people to teach English.
Further, he said youth should be allowed move higher in the society and to fulfil their dreams. (Yohan Perera)