---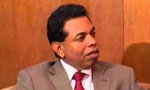 Surgeons at private hospitals are mandatory required to monitor the recovery of a patient after a surgery and stay with the patient a minimum of one hour according to a new circular issued by the Health Ministry.
In the wake of widespread medical negligence, mishaps and kidney transplant scams at private medical institutions, the Health Ministry has introduced far reaching amendments to the Private Health Services Regulatory Council (PHSRC) Act of 2008 including the introduction of fixed price formula for medical care, drugs, medical equipment and tests.
In a circular to directors of all private health care institutions on the instruction of Minister Dr. Rajitha Senaratne, Secretary General, Health Services Dr. Palitha Mahipala says that the Ministry would monitor from April 1st onward all health related activities of private hospitals and take punitive actions against those who violate the provisions of the Act.
Accordingly, medical services, surgeries, diagnosing and prescriptions, issuance of drugs and their quality and effectiveness, medical equipment and laboratory services, blood transfusion, the time a doctor spends to check a patient and any other function related to health care delivery will be closely monitored by the PHSRC.
The Health Ministry has also decided to be strict on doctors and health ministry employees who play truant and serve at private hospitals during their working hours to earn an extra buck illegally. Punitive actions would be taken against both parties. The private hospital for obtaining the services of a health employee during his or her duty hours and the employee for betraying duty.
"It is mandatory to issue a detailed receipt to the recipient of any service, drugs or medical equipment by the private hospital. A Flying Squad will conduct raids as necessary on private hospitals to ensure they do not charge exorbitant prices for their services," Minister Senaratne said.
Under the new amendments introduced to the PHSRC a special medical report will be prepared and submitted to the court by the PHSRC if and when a family decides to take legal action in the event of medical negligence at a private hospital.
The PHSRC will be empowered to visit any private medical institution at any time of the day and conduct investigations on any issue or complain.
"It is a known fact that some medical specialists charge patients extremely high fees. It varies from Rs. 1,500 to Rs. 5,000 a patient. Private hospitals sell drugs for normally five times of the price at Osu Sala. Surgeries are normally beyond the reach of middle class and cost millions of rupees. In short, private hospitals do not provide a service to the people because it is a business, he added. The amendments to the PHSRC Act will bring the prices charged for drugs, medical equipment, inward patient care, surgeries and medical tests to an affordable levels. The amendments are expected to give more legal teeth to the PHSCR enabling the Director General of Health Services or his deputy to entertain public complaints against private hospitals, nursing homes and private medical practitioners / specialists by the public and take legal action against them.
In Sri Lanka 50% of the population seeks state medical assistance and 10% seek private hospital treatment. There are about 250 private hospitals and nursing homes and about 1,000 private laboratories, channel services and ambulance services. The number of private medical practitioners spread in the country is about 10,000.
Quote: It is mandatory to issue a detailed receipt to the recipient of any service, drugs or medical equipment by the private hospital. A Flying Squad will conduct raids as necessary on private hospitals to ensure they do not charge exorbitant prices for their services. (Sandun A Jyasekera)